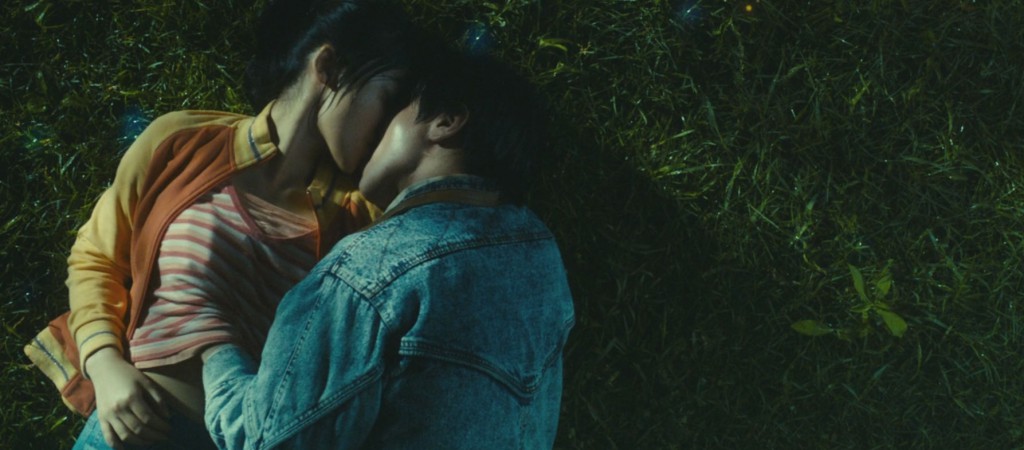 In yet another coming-of-age romance story involving moves to America, famed actress Zhao Wei brings us her debut film starring Mark Chao and Han Geng as the male leads "Chen Xiaozheng" and "Lin Jing", (cue fangirl squealing) alongside newcomer Yang Zishan as the female lead "Zheng Wei". To Our Youth that is Fading Away, also known as So Young (hereinafter used in place of the full, directly translated film name), tells the story of an ensemble of college students in the era of Chinese economic liberalization and growth, as they fall in young, innocent love and face life's harsh realities after graduation.
So Young focuses heavily on the experiences of the main cast during their university days, with an ensemble of stereotypical characters—the "School flower" Ruan Guan (Jiang Shuying), the tomboy Zhu Xiaobei (Liu Yase), and the girl from modest backgrounds Li Weijuan (Zhang Yao), as they struggle to find their way through the well-quarantined environment of a university campus. Particularly stunning is the vibrant cinematography presented in So Young, with rich colors permeating the university campus scenes that highlight small details of dormitory life. From the boys moldy ramen bowls to the girls' rice cooker, So Young paints a picture of what my parent's university dormitories might have looked like two decades past.
The young, innocent, princess-like Zheng Wei is playing with a model building when she accidentally knocks it to the ground, prompting Chen Xiaozheng to swoop in and push her aside as he saves the results of his arduous labor. Though initially aloof and more dedicated to his studies than to any interest in the sometimes childish Zheng, Chen eventually comes to enjoy her company and the two enjoy university life together. Their love story was more inspiring and heart-touching than teenage-romance-style sappy, with Chen Xiaozheng facing real struggles as the son of an impoverished single mother.
However, like many of the other films I've reviewed recently, graduation hits alongside all the drudgery and misery of real life —Chen Xiaozheng, who comes from an impoverished background, finds himself chasing professional success in America, leaving behind Zheng Wei to pursue her own career. The second arc of the story is set once again in China, as Chen Xiaozheng returns home with wealth and fame abound, and seeks to rekindle his romance with his sweetheart Zheng Wei.
You might have noticed that my overview of the plot failed to mention the other male lead—Lin Jing. In fact, although the premise of the film is that Lin Jing, Zheng Wei's childhood crush, suddenly disappeared to study in America (seriously, Chinese people have an obsession with this) and resultantly broke her heart, Lin Jing's character is relatively unimportant, and it feels like Zhao Wei casted him solely for the purpose of providing a character for Han Geng to play. Perhaps this was a sound business decision, but I would have loved to see the childhood crush of Zhang Wei and Lin Jing develop, as it could show deeper insights into Zheng Wei's character while making full use of Han Geng's acting abilities.
What I did appreciate however, was that each of the ensemble characters had a real personality and showed character development over the course of the film—from the "school flower" Ruan Guan taking the role of a strong and supportive girlfriend as her wimpy boyfriend comes crying to her for help, to the rich-boy Xu Kaiyan (Zheng Kai) developing a more mature outlook on his father's wealth, or the tomboy Zhu Xiaobei refusing to be looked down upon anymore and making a stand for her personal dignity.
Further, So Young tried to touch upon a deeper societal issue that was prevalent during the period of economic expansion—rapidly increasing class inequality. Throughout the film, we see characters that are less well-off diligently pursue their studies in the hopes that they can study their way out of poverty, while they are pitted against the lucky few who "got rich first", the words of Deng Xiaoping. It was touching to see a romance develop not only in the absence of wealth on the part of Chen Xiaozheng, but in the adversity of the wealth Xu Kaiyan's pursuits of Zheng Wei.
Ultimately some critics feel that the second arc of the film, set some years after the original characters had graduated university, fails to inspire as much as the first half. While certainly the second half rapidly declines into the misery of daily life and is much more saddening, I feel it serves an important role in bringing some closure to the end of the first half of the film by showing us how everyone is getting along in their lives. By far, the ending of So Young was much less depressing than My Old Classmate or The Apple of My Eye (Apple was actually rather uplifting).
Accomplishments of the past always seem much more diminished in retrospect than they seemed at the time, but that does not mean that they failed to help us learn and mature in important ways. So Young reminds us of our once care-free days where we experienced innocent joy and love, in the face of what may now seem like petty obstacles, but at the time were monumental. It is truly difficult to capture the many feelings and experiences of one's youth in the short time that a movie allots, but So Young makes a valiant effort and does hit some of the key points.
Ultimately, So Young reminds us that "youth is meant to be commemorated", showing us that although we may never be able to return to the innocent and joyful times of our younger days, we can reminisce and in our nostalgic memories, we may be able to feel the same emotions of our youth once again.
---
So Young (Chinese: 致我们终将逝去的青春, or "To our youth that is fading away")—China. Directed by Zhao Wei. First released April 2013. Running time 2hr 2min. Starring Yang Zishan, Mark Chao, Han Geng, Jiang Shuying, Bao Bei'er, Zheng Kai, Zhang Yao, Tong Liya, and Liu Yase.