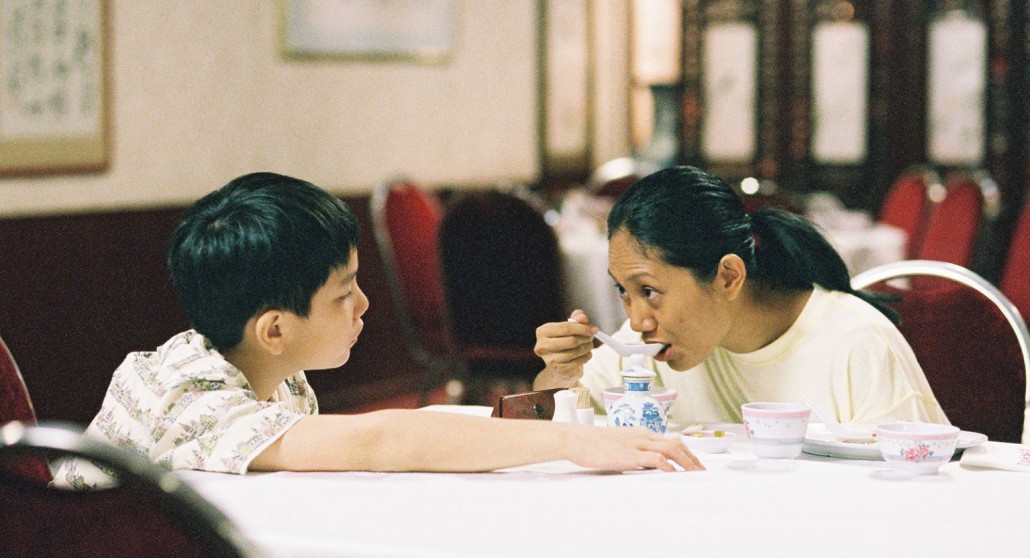 Though they share many similarities (both are city-states and major financial centers dominated by a Chinese-speaking populace) Singapore and Hong Kong aren't so close when it comes to film. While Hong Kong's movie industry is the third-largest in the world, Singapore's is more modest in size–outside of the Sinosphere, its films don't garner as much attention. In 2013, Ilo Ilo bucked this trend, premiering at Cannes and winning the Camera d'Or award (given to films with first time feature-length directors). It went on to win four prizes at the Golden Horse Awards (essentially the Oscars for Chinese-language film) in Taipei that year, making it the most critically acclaimed Singaporean film in recent memory.
From my experience, Singaporean films tend to have a fair amount of local color. The relatively popular 2002 comedy I Not Stupid skewers Singapore's education system through the eyes of kids stuck in a low educational "stream", and the recent blockbuster (by Singaporean standards) Ah Boys to Men follows a group of recruits through the country's mandatory military service. Ilo Ilo continues this trend, telling what seems like yet another quintessentially Singaporean story.
The film opens during the 1997 Asian Financial Crisis, introducing us to the ethnically Chinese Lim family– father Teck, mother Hwee Leng, and son Jiale. With another child on the way, the Lims decide to hire a domestic helper named Teresa ("Terry" for short), from Ilo Ilo province in the Philippines, to take the load off Hwee Leng's shoulders. That load is heavy indeed — Jiale is a tumultuous delinquent who shows more interest in picking lottery numbers from newspaper clippings than memorizing Chinese characters.
Terry arrives just as the Lims' fortunes begin to slide. Teck loses his sales job and keeps the fact secret from his wife, Hwee Leng is ordered to begin typing other employees' termination notices at her secretarial position, and Singapore is beginning to lose its hope to financial contagion. Amidst all this, Terry must not only gain Jiale's acceptance, but also deal with his parents' insecurities.
At its core, Ilo Ilo is a family drama, and its characters ultimately all exist within a family context. The movie's Chinese title is quite revealing on this front; directly translated, it is "mother and father are not home." All of Ilo Ilo's characters, though part of a "family" in one way or another, drift alone in a sea of worry, bumping into each other at strategic intervals to commune. There's a subtle beauty to this dynamic, which gives the film the feeling of twilight rather than abject darkness. We see each character shrink and grow in presence and personality, and their collective isolation further highlights the film's emphasis on the ever-fraying ties that bind people together: blood, affection, friendship, trust, and beyond.
Ilo Ilo is also a sobering–but not fully damning–look at the darker side of a city-state billed as one of the world's most efficiently run and economically competitive countries. While Singapore's streets are clean and per capita GDP is high, it also has a somewhat authoritarian government and one of the highest levels of income inequality in the developed world. As they obtain higher levels of education and income, Singaporeans are also having fewer children (and consequently families like the one in Ilo Ilo)–this has become enough of a problem that the government partnered with Mentos to produce a rap aimed at convincing couples to have kids. Cynically put, Singaporeans have made a Faustian bargain; in exchange for prosperity, efficiency, and order, they give up their passions and souls. This is a thesis that Ilo Ilo does not directly advance, but certainly provides evidence for. As another Filipina helper tells Terry early on in the film, "if you brought your rosary from the Philippines, forget about it — there's no place for God here."
Without money, without absolute obedience to laws and academics, what's left? This question plagues the Lim family and perhaps has broader implications for Singapore at large. Ultimately Ilo Ilo still stands on its own as a touching family story, but its ability to gently weave in social themes made it particularly memorable on a personal front.
---
Ilo Ilo (Chinese: 爸媽不在家)–Singapore. Directed by Anthony Chen. First released May 2013. Running time 1hr 39mins. Starring Chen Tianwen, Yeo Yann Yann, Angeli Bayani, and Koh Jia Ler.