Between October 29 and November 21, 2016, renowned Taiwanese director Wei Te-sheng's (魏德聖) newest movie 52Hz, I love you will screen across 50+ North American locations in its worldwide premiere. After his successes with Cape No. 7  (Taiwan's highest-grossing film of all time), Seediq Bale, and Kano, Wei has taken this unusual move of launching 52Hz, I love you abroad before its January 26, 2017 Taiwan release.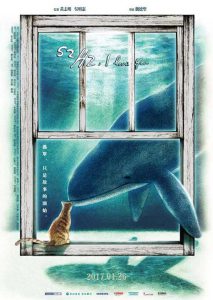 Details on the movie are limited (update on 26 October 2016 — there's another newer teaser!), but its official website states it will "present a series of romantic comedy stories with beautiful original songs that take place in modern Taipei City, Taiwan, on Valentine's Day". The film's title is inspired by the 52Hz whale, a creature dubbed the "world's loneliest whale" because no other whales can hear its 52Hz frequency calls.
"I found this whale very fascinating; it echoes the movie's theme, which is loneliness," says Wei in a teaser. "Just like how no one hears this lonely whale, how many people in [Taipei] have love inside of them but nobody knows? Or simply need a chance to say 'I love you' and be heard?"
It appears that 52Hz, I love you represents a shift from Wei's past work, which tended to incorporate narratives from Taiwan's history and shift the limelight away from Taipei. Regardless, Wei hopes that this new approach will be even more effective at capturing audiences' attention.
"The movie we're making this time is going to be different from before," says Wei. "This time, we are bringing everyone happiness and satisfaction. I hope we can really accomplish this."
Teaser (English Subtitles)
Screening Locations and Dates
52Hz, I love you will screen at the times/locations listed below. Click the links below for detailed information on each screening. Alternatively, you can check out the tour's Facebook page. 

Saturday, October 29
Sunday, October 30
Monday, October 31
Tuesday, November 1
Thursday, November 3
Friday, November 4

Saturday, November 5
Sunday, November 6

Monday, November 7

Tuesday, November 8

Wednesday, November 9

Thursday, November 10

Saturday, November 12

Sunday, November 13

Monday, November 14

Tuesday, November 15

Wednesday, November 16

Thursday, November 17

Friday, November 18

Saturday, November 19

Sunday, November 20

Monday, November 21

---
Enjoy Taiwanese movies? Support Cinema Escapist and filmmakers like Wei Te-sheng by purchasing the following movies with our affiliate links — there's no extra cost for you. Thank you for your support!