Last weekend, family drama A Sun (陽光普照), dominated 2019's Golden Horse Awards (Taiwan's Oscars). The film won in six categories—including best feature, best director, and best leading actor. Though a Chinese boycott of the awards lessened competition, A Sun deserves acclaim as one of this year's strongest Chinese-language films. Centering on a family beset with misfortune, A Sun crafts an intricate, character-driven drama that's compelling enough to entertain audiences throughout its two and a half hour runtime.
We Are (Unhappy) Family!
If the image of a severed human hand bubbling in soup scares you, avoid A Sun. The film begins with an act of violence that sparks a series of woes for the four-member Chen family. Three of the Chens seem like humdrum working-class Taiwanese: father A-Wen (Chen Yi-wen) works as a driving instructor, mother Qiu styles hair at a nightclub, and elder son A-Hao studies to retake his med school entrance exam.
Younger son A-Ho (Wu Chien-ho), however, doesn't fit the mold. In an act of revenge against bullying, he and his delinquent friend Radish attack a boy nicknamed Oden at a soup restaurant (there's a dark joke here for those who know their Asian soups). A-Ho lands in juvenile detention, and A-Wen disowns him.
The Chen family's woes don't stop there though. Qiu learns A-Ho has impregnated a teenage girl named Xiao Yu, Oden's father chases A-Wen for victim's compensation, and silent cracks begin forming in A-Hao's psyche. Thirty minutes in, A Sun has introduced a sprawling cast of characters, each with their own challenges and proclivities.
Meticulous Storytelling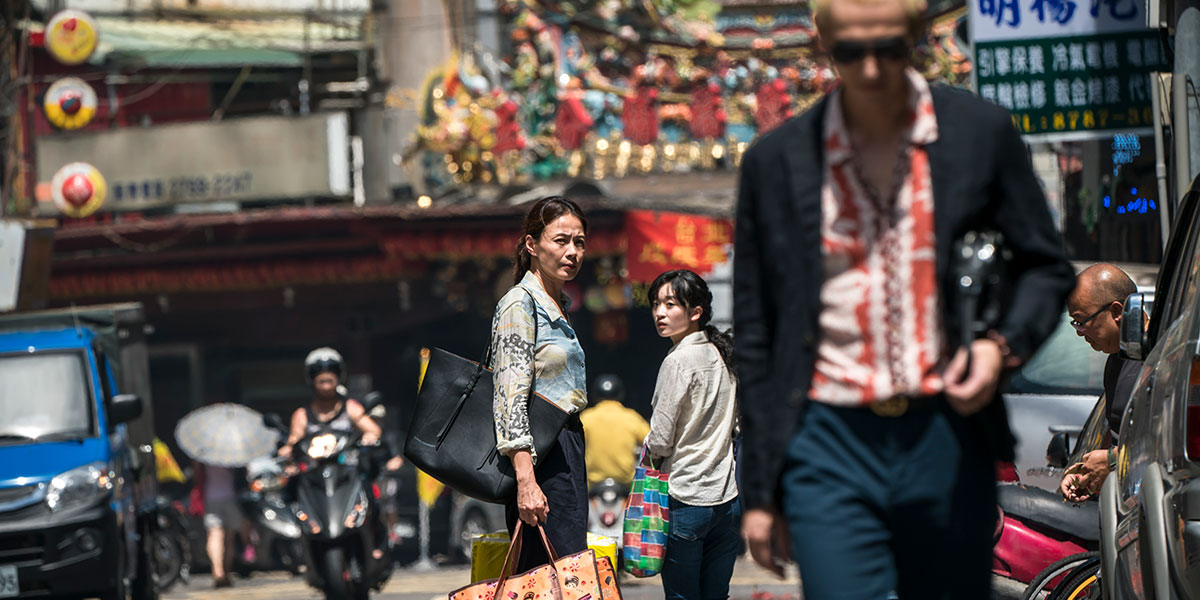 Despite this narrative complexity, A Sun never feels overburdened. The film somehow allows even small narrative details to serve layered, meaningful purposes. For instance, A-Wen's driving school has the slogan "seize the day, find your direction" (把握時間,掌握方向). This becomes a motif that surfaces in numerous subtle ways before becoming a core component of the film's climax. Similarly, a quote from A-Hao gives the film its Chinese title 陽光普照, which translates directly to "sunlight reveals all." A Sun uses rain, darkness, and sunlight to set the dramatic tone of numerous scenes; the notion of "sunlight reveals all" also takes on visual significance during the movie's climax.
It's also captivating to follow the characters of A Sun. The narrative strands for father A-Wen and younger son A-Ho offer the most food for thought. Those two characters have the meatiest flaws, and thus the most room to evolve throughout the film. Without giving too much away, their character arcs become elegant foils for each other.  We see the two characters each go through a series of trials that borrow from a variety of captivating subgenres—gangster flicks, dark comedies, spousal dramas—and come out different on the other side.
Focusing on A-Wen and A-Ho naturally takes some attention away from other characters. This tradeoff feels worthwhile though. All of A Sun's other named characters (with a few exceptions like Xiao Yu) still have enough complexity and evolution to keep the story exciting; they appear for just enough time, with just enough intensity. For instance, Radish isn't on screen for most of the film. However, when he is, his presence meaningfully impacts the plot—thanks in part to actor Liu Kuan-Ting's superb portrayal of the character's manipulative personality.
Serious, But Not Bleak
Another distinctive aspect of A Sun is that while it depicts serious themes, it's not overwhelmingly bleak. While not a superhero blockbuster, the film still has enough friendly reference points—family dynamics, triad gangsters—that prevent mainstream audiences from getting too depressed. Its characters might suffer misfortune, but there's still a whiff of hope.
This represents a slight evolution for A Sun's director Chung Mong-hong. Chung's previous features, like 2008's Parking and 2016's Godspeed, contained weighty existentialist undertones that evoked Irish writer Samuel Beckett. In those films, characters had no agency; absurd things just "happened" to them.
Contrastingly, A Sun's characters seem like they have the ability to affect change in their lives, as we see through A-Wen and A-Ho's character arcs. This doesn't mean A Sun lacks philosophical oomph. It simply has a more accessible variety, one that grounds itself in an exploration of family dynamics. Queasy moviegoers who'd dislike its violent opening might still avoid A Sun, but the film feels like it can attract a broader audience without sacrificing artistic value.
And the Golden Horse Award for Balance Goes To…
Intricate balance—that's the name of the game for A Sun. The film takes a bevy of characters, a litany of plot details, and a smattering of serious themes, somehow fitting them all together in a coherent, captivating manner. A Sun contains just the right amount of artistry and philosophy, mixed with sufficient doses of violence and humor to take off the edge.
Most other Chinese-language films from 2019 don't even attempt this intricate balance. On one hand, blockbusters like Ne Zha or The Wandering Earth avoid any philosophical musings and stick to conventional stories. On the other hand, on top of boycotting the Golden Horse Awards, Beijing also suppressed many movies that might push the narrative envelope and offer serious competition to A Sun this year.
Thus, alongside other examples like Nina Wu and Wet Season, A Sun offers an important reminder that 2019 wasn't a total loss for Sinosphere cinema. While its relatively narrow focus on a "regular" family and lack of significant socio-political relevance might blunt A Sun's international sellability as an art film, anyone interested in Taiwanese movies should check it out.
•  •  •
---
A Sun (Chinese: 陽光普照)—Taiwan. Dialog in Mandarin with some Taiwanese. Directed by Chung Mong-hong. Running time 2hr 35min. First released November 1, 2019. Starring Chen Yi-wen, Ko Shu-chin, Wu Chien-ho, Liu Kuan-ting.